April 10, 2018
by GForce Software
We're almost as obsessed with visual arts as much as we are with synthesisers and old keyboards. Combine the two elements and, frankly, we're in seventh heaven. Our YouTube Channel, and in particular our Instagram feed, is testament to this; places where we regularly post images and videos showing not only our software, but also the various instruments we're obsessing over at a given time.
With Instagram, however, it's sometimes easy to become blind to the myriad of synth porn images and given the fleeting, transient nature of 'like-and-swipe' at some point you start to crave something more fulfilling and nutritious; something that slows time and makes you pause, if only for a minute.
Brian Drake's Instagram feed provided just that and came to our attention after he'd tagged his use of Oddity 2 in one of his early 'Tone Poems'. An accomplished artist and musician, his cross-pollination of animation, video, paintings, coupled with a beautiful, spacious, musical, sound-field, immediately made us sit up, put the world on pause, and take notice. So after following his work for almost a year, we had to find out more about the man and the process behind Brian Drake Art
Q. Thank you very much for taking time to talk with us. For those unfamiliar with your work, how would you describe yourself?
I am an artist who is not bound by any medium. I simply want to communicate ideas and emotion.
Q. How did you get started?
I started with music. In 1982 I began taking drum lessons at a local music store, in Phoenix Arizona. I loved being there so much, that I would arrive an hour early. I would spend that time looking and playing with gear… and a lot of that gear was synthesizers…. I was fascinated by them. Big rich creamy sounds that I had never heard before.
After a few years of drum lessons, I started taking piano lessons. My first keyboards were FM giants, the Yamaha DX7 and the Korg DS8. The Korg had 8 note polyphony and terrible presets, but was fairly programmable… I liked doing that quite a bit. Fast forward 8 years to high school, where I was writing songs in a band that was shopping record deals in LA. We had an entertainment attorney and thought, like many others, we were going to be huge…. It did not go that way at all. After two demo EP's, it all fell apart… however, I had just been accepted to Berklee College Of Music.
Q. Berklee is obviously hugely prestigious. You must have felt like you were 'on your way' at that point?
I thought Berklee was the beginning… In fact, after a few semesters at Berklee, the money spent and the need to earn money to live was too great and I had to leave the program early.
My natural creative ability, and deep knowledge of computers, helped me get into a great business at a transitional time.
I bounced around various cities, creating music projects that went no where. My aptitude for code, and computers led me into graphic design through a sort of  back door, as computer desktop tools were brand new, and youth culture was driving the business. My natural creative ability, and deep knowledge of computers, helped me get into a great business at a transitional time. True to my nature, I studied the greats of design, much like I did in music school, trying to hone my craft. It felt good to be creative and get paid for it. By the late 1990's, I had become so proficient in design, that I was opening a studio and building a body of paid work.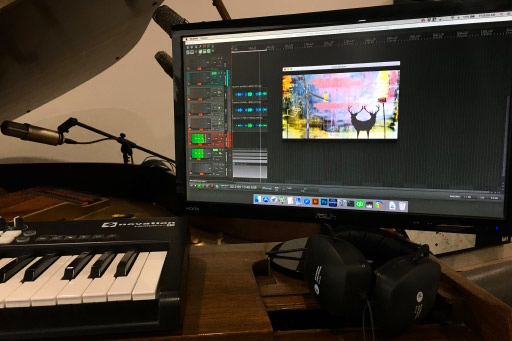 Q. Did the musical side of you disappear as a result?
By 2000, I quit playing music all together and did not touch any of my gear for 17 years. In those 17 years, I had grown quite successful in design and advertising. As I wrote before, I had a studio with employees, created a dedicated art gallery and then went to work for a large ad-tech company as a Creative Technology Director. In that role, I was presenting my creative ideas to large brands. In the end, I was just helping these brands convince people to buy stuff they didn't need. Like Ranch dressing… seriously… Hidden Valley was a client. You don't need an ad to sell Ranch dressing. I was getting really burned out on the commoditization of design to sell products online.
During this 17 year period, it was a natural extension to work in fine art. I had an amazing business partner and mentor named Arthur Milano, who really pushed me to keep creating no matter where I did it. He saw real potential in my art, before anyone else did.
My paintings and Illustrations are in several public and private spaces, including 40+ original pieces in an Olympic Hotel in Bijieng, China. I have several private collectors, and have done many shows. My paintings tend to be very large oil on canvas works.
Q. Moving from large oil on canvas works to Instagram is quite a leap. Tell us more about that
When I started my Instagram account (7 years ago) I had the typical conspicuous spending "look at me" type of page. As an experiment, over time, I began placing my art work up there… and losing followers fast. In time, I was able to regrow a new and more honest account that represents who I am and what I think about the world around me.
I started to wonder what work did people like the most? Maybe it was the ad-tech guy in me looking for an actionable insight, but I was curious how a large audience would react to my different work. I began A/B testing my creative. Using views and likes as the key performance indicator. I would test an oil painting against my photography. Then I would test my Illustration against fine furniture, then those "winners" would be tested against each other. It was really, really insightful. About this time, I had taken delivery on my piano that my parents had been holding for the last 20 years and my drum set was just taken out the bags for the first time in 10 years. What if I did a video with music?
I did my first Tone Poem, in April of 2017. By the time I did my 10th one, my A/B testing was clear… in the online world of free art, the Tone Poem's were it. The same KPI outpaced my other work by 7 fold. I would have never guessed in a million years my non pop, non traditional, experimental audio would be of interest to any one. But at least compared to my visual work, it was surpassing every countable metric I could find. So I re-tooled my account to focus on just the Tone Poems, with the occasional painting thrown in, for good measure.
Q. Tone Poem is a great name. It is your moniker or borrowed from elsewhere?
The name started out as Visual Tone Poem and then just got shortened. It is borrowed from a modern orchestral term, that defines the piece as a single movement that tells a complete story, narrative or poem. And that is exactly what mine do. Both visually and aurally.
I just knew a very short story with original music, not pop music, would be an interesting experiment…We used to call them music videos.
With few exceptions they are no longer than the Instagram format and they are always a complete story. Ideas tend to stick with me a long time. I first conceived of this Tone Poem idea in a snow storm in Indianapolis in 1991 while driving my girlfriends blue 1982 Ford Escort. I just knew a very short story with original music, not pop music, would be an interesting experiment…We used to call them music videos.
For the first time in my life I can create an immersive experience of my ideas. One gets to interact with my visual and musical concepts at once and also individually. They are approachable. Most people can't afford my paintings and few have a chance to come view those paintings in person. The Tone Poems allow art lovers to get visual affirmations of my artistic ideas and music lovers can see and hear the demarcation of time through melody and movement. They are very portable and accessible to anyone with a phone or browser. That's pretty cool.
Q. Do you have any plans to take Tone Poems outside of the Instagram world?
I am currently working on a way to integrate the Tone Poem experience in a live event. Longer pieces, same video content, live musicians, projectors lights… its not all worked out, but its coming. At the same time, I am working on large format oil painting series based off of the night series of Tone Poems from last fall. I play notes, I see a color. I paint shapes, I hear changes. It all feeds each other.
Q. Can you give us some insight into your creative process?
My process for music creation usually starts somewhere else. Maybe I am reading, maybe I am painting… I try to engage in deep thought and see where that takes me both intellectually and emotionally. From there I go where the story in my head takes me. Sometimes it's an illustration… sometimes its paintings. Sometimes the illustration drives the video, which creates the need for a music bed, which then in turns inspires me to create paintings based on those videos. And sometimes its a piece of furniture in the wood shop.
Often I start at the drums. I purposely do not sit and dig in on back beats or "groove". I am not interested in that form of expression. I am searching for space and air around the notes… even if I am playing a fast tempo. As an example, I like the way my big 22" AGOP sizzle fills the voids and glues together the seams of a rhythm. I play on top of the beat, displacing the pocket and finding melody in the drums. A lot of this style of playing is indicative of jazz music, but certainly is not BeBop or Jazz in it's purest sense.
From there I open the tracks and just play into the DAW. I usually set up a form, like 16 bars or 32 bars… or odd forms like 18 or 21 and then loop and play takes. Then I go the next instrument to fill in the blanks. Sometimes trumpet, often the Oddity2 with a big pad… then it all comes together pretty quickly. I rarely write much of a chart, maybe a few chords, a rhythm, some form, but its pretty basic.
At this point, the visuals start and that gets more challenging. Both because I may be exhausted creatively and of course the challenge of drawing in Illustrator or animating in After Effects, before I even get to editing to sound.
I feel Instagram pushes me to make content, so I have something new to upload. The result of that upload is like pulling the arm of a slot machine. This can be good or bad depending on circumstances. So it is not uncommon for me to use a fake deadline of Instagram for me to be up 24 or more hours working on a Tone Poem.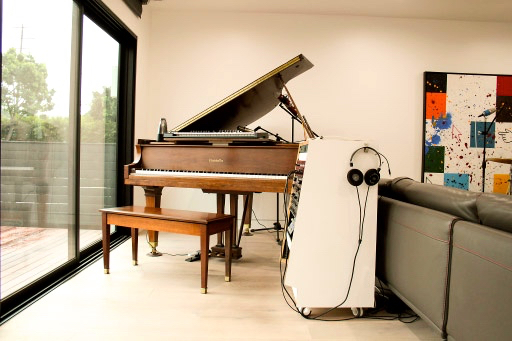 Q. What are your musical influences?
When I was working in the design field, I would speak at industry events and I would often tell students and young designers, don't look to your industry for inspiration. Read books, listen to music, have sex, fall in love, do anything but look at other design to guide you. To a degree I practice this with music, albeit subconsciously.
Influences are wide and varied. I love expression of self through music. Story, and emotion through melody and word, combined with the demarkation of time, is magical.
Major influences include, Pat Metheny and Lyle Mays. Anything from Brian Blade and his Fellowship Band. The Peter Gabriel So Album. The Style Councill (Love Paul Weller). Early Wynton Marsallis like Black Codes From The Underground. Any Art Blakey/Jazz Messengers. Mel Lewis Orchestra with Thad Jones. The Mark Guilana Jersesy Album is a new favorite.
Any Art of Noise, especially The Ambient Collection. That album transfixed me as a student at Berklee when it came out. I think Anne Dudley is brilliant.
A lot of Herbie Hancock early work. Although I hated Herbie Hancock's use of the Arp and other synths when I was deep in my jazz period. I just felt the disco grooves and silly sounds was a terrible way to evolve… However, with some exceptions, I have reconsidered my entire thought on this period, which is dominated by his use of the Arp Odyssey. Basically, I was wrong and he is a master of amalgamation and style.
Looking at my current playlists, there are thousands of tracks: Thievery Corporation, Bombay Dub Orchestra, Little Dragon, Mat Demarco, Donny Hathaway, Al Green,… I could go on. While writing this I have been listening to Kamasi Washington, Orchestra Baobab and now Dorothy Ashby. Clearly I find pleasure in a lot of different music.
Q. And what about your tech set up?
A MacBook Pro, running Reaper through a Focusrite Clarett 8PreX
Video, audio, animation, is also done on the same MacBook.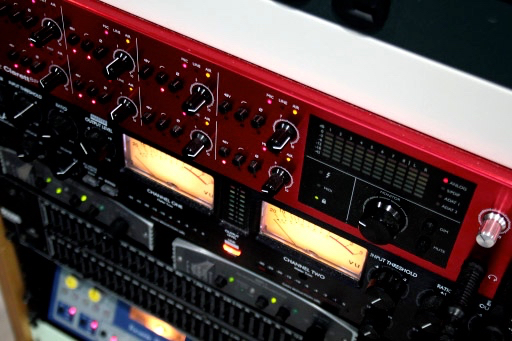 Q. Why do you use the Oddity2?
As I wrote before, I would go to my drum lessons about an hour early. In the corner of the store they had a keyboard room. In that room was magic. There was this big orange and black monster.. a MkIII ARP Odyssey which was flanked on the right by a Jupiter 8 and to the left a Juno 60. I would go crazy playing pads and turning knobs and with no experience, at 9 years old, I would allow the sounds and textures to wash over me. It was pure creation without any idea or purpose. No rules.
In 2017, If I was going to dig all these things out of storage, get my piano sent to LA, and play with music again, I would approach it just like I did when I was 9 years old. Before I went to music school, I was very free. At Berklee, I became a purist with overly romantic ideas about how I wanted to be in music. That was a huge disservice to myself. When I looked at my success in design, advertising and art… there was one thread that was constant… I had broken rules and worked with freedom. This time, I needed nothing from music. I wanted to play with joy and passion again.
The GForce Oddity2 took me right back to being 9 years old. It has the textures that offer a great juxtaposition to the music I am doing and, as a jazz musician the real time sonic shaping allows an improvisational quality to the music, that really appeals to me. I love this thing and it is used on all but 2 Tone Poems.
The whole world of virtual instruments, that occurred between 2000 and 2017 was brand new to me and I really liked the concept. I almost purchased a reconditioned MKIII, but frankly, the shear mass of the instrument and long term maintenance, just didn't appeal to me, especially after playing with your Oddity2. On top of that, no polyphony, a shaky output and the deep feeling that if I paid $4k for this thing, I better love it!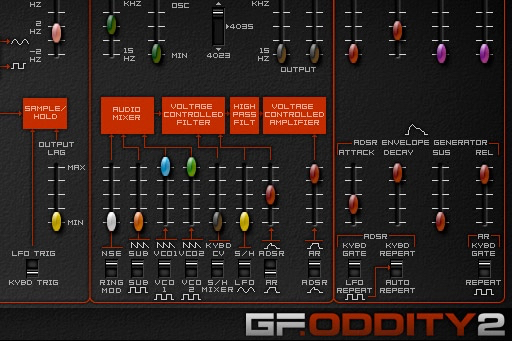 Q. Do you ever feel that focussing on one area would be easier or do you intentionally look beyond a single discipline and to a combination of skills, techniques and media that inspires on a number of levels?
I would be far more successful if I would just stick to one thing. It's a simpler narrative for people to grasp, but I have too much curiosity about the way in which we communicate with each other that I have to explore them. There is something very primal and satisfying about playing drums, just as there is with moving paint across a large canvass. There is something very cerebral about crafting melody, just as there is with crafting a narrative in colour and form.
I am an artist. It does not matter if I am playing drums, animating a Tone Poem or making a painting, I am just trying to communicate ideas to people. People can consume my art in the best way that suits them.
I am an artist. It does not matter if I am playing drums, animating a Tone Poem or making a painting, I am just trying to communicate ideas to people.
Q. Finally, is there anything you'd like to promote?
I am not promoting anything. Follow me on Instagram, message me… I am approachable and like to interact with other music lovers. My goal now is curate these Tone Poem's even further and get better at presenting a mastered sound in the compressed Instagram world. I have done 27 in the last 11 months. I hope to do the same in the next 12 months.
Links: https://www.instagram.com/briandrakeart/
Additional equipment listings: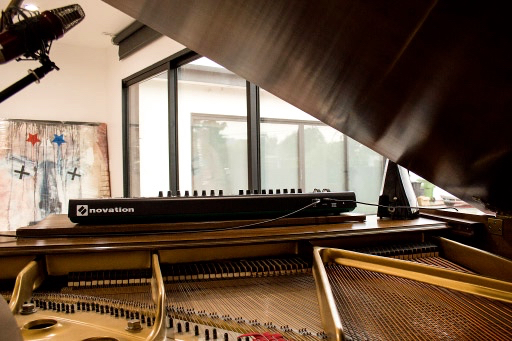 Audio Path Piano
3 x That! Corporation 1510 modified Event EMP1.
1 x Focusrite ISA ONE.
I use three channels. Right now have been using the ISA One as the third channel and not the additional EMP1. I tend to pan hard left and right the Event pre amps and then use the ISA to add centre focus when needed.
2 x 31 band Rane Graphic eq's for the slightest correction before I track. It helps with the room and any muddy sounds, and keeps me free of any plug ins or "fixes" in the mix.
From the EQ, the two EMP1 channels go into a heavily modified ART PROM VLAII. I re-capped everything in the signal path, put in Telefunken NOS tubes, bypassed the entire op amp input and wired two transformers to the unit. I then upgraded the Op amps on the outputs.
Microphones Piano
2 x Rode NT1 go into the EMP1.
Modified head baskets, original K67 Capsules and a new WIMA cap to tame the highs.
1 x Rode NTK into ISA One. (Tube and capsule upgraded with no compression or eq)
Keeping the piano constantly tuned really helps. I regret not doing it before I started recording the earlier Tone Poems. But you know… I never knew I would be doing this.
Drums & Cymbals
1966/67 Sonor Teardrop K-190 Chicago in Silver (found in small shop in Chicago in 1994 and restored from near death by me).
Original Noble & Cooley 7×14 Honey Maple snare with center mount lugs.
Pointy Badge Acrolite Ludwig 5×15 snare. Mix of Paiste, Istanbul and Zildjian cymbals.