August 4, 2010
by GForce Software
Released in exceptionally limited quantities back in 1973, this behemoth of an instrument made quite an impression on users such as Stevie Wonder and Keith Emerson despite its equally hefty price tag of $60,000.
On his album, Songs In The Key Of Life Stevie Wonder referred to it as the "Dream Machine" and there's no denying that the GX-1 strings on Village Ghetto Land still sound as wonderful today as they did back then. Indeed, it was this sound that made us track down one of only two GX-1's we're aware of here in the UK and add it to the VSM Expansion Pack roster.
At first glance the GX-1 looks more like a space age theatre organ than a synthesiser.
Other users included Led Zeppelin who used it on In Through The Out Door, and a more recent owner of note is Aphex Twin, Richard James.
At first glance the GX-1 looks more like a space age theatre organ than a synthesiser, with its three tier keyboards, bass pedals, and general styling. It even has the Yamaha organ moniker 'Electone' emblazoned on it and contains an organ style drum machine.
It's way cooler than a mere organ though. For starters, the upper keyboard comprises miniature keys which are not only velocity sensitive but also could be moved from side to side to modulate the oscillator pitch, filter cutoff and resonance. There was also a ribbon controller too making this mini-key manual, hugely expressive.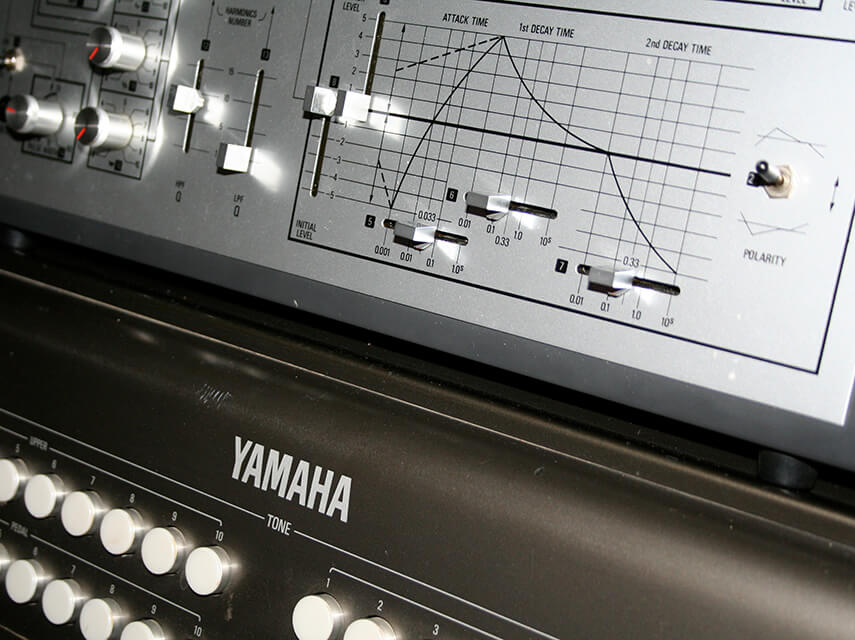 The upper and lower keyboards are normal sized keys and can be set to independent sounds the played separately or linked to one keyboard to create bombastic layered tones.
"I think it's probably the most amazing instrument I've ever played. The depth of sound through the speakers is just magnificent. It's also an engineering marvel – to think of the amount of circuit boards in there is staggering."
Finally, the bass pedals were concealed within the casing which, from the front, wouldn't have looked out of place in a 70s sci-fi movie.
Don't be fooled by the apparent lack of controls and the veiled appearance of an organ because in terms of its sonic palate, the GX-1 goes way beyond that and has plenty of tricks up its sleeve.
For example, a drawer to the left of the keyboard slides out to reveal a wealth of controls. Then there's a natty looking additional programmer that connects to the instrument and allows you to change settings of the mysterious filters which appear to be 12db per octave affairs a lá the CS range of synths, however as there doesn't seem to be any spec sheets to confirm this, we're only going by what our ears tell us in addition to our experience with the CS-30, CS-60. CS-80 and SY-2. Whatever the spec though, it sounds absolutely magnificent when played via the accompanying PA system.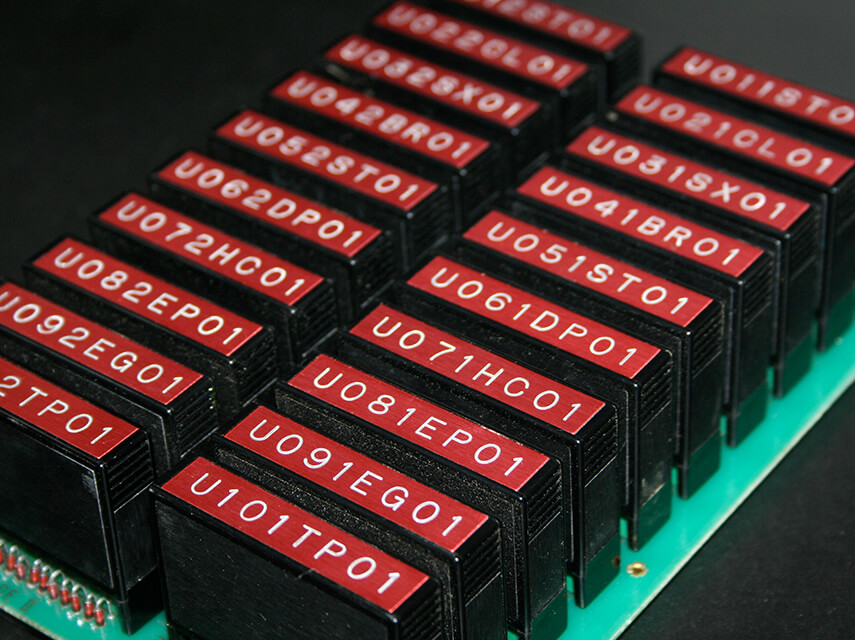 Yes, the GX-1 also came with its own amp and speaker system and in keeping with the larger-than-life ethos, these too are massive, weighing in at 140 Kilos each. You could attach up to four of these to the 120 Watt valve amplifier ending up with an instrument, speakers, pedals etc weighing in excess of a tonne. And if you want it flightcased, even heavier.
Having spent a significant part of our teens flirting with the GX-1 – Dave and his love of Songs In The Key Of Life, and Chris with his Keith Emerson days, when we finally got to play it we weren't disappointed.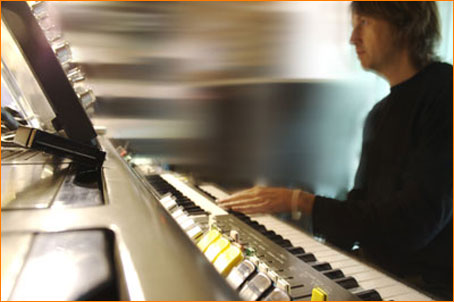 If we've whet your appetite for a GX-1, forget it right now and opt for VSM and the Expansion Pack instead. The last we saw was on eBay with a modest reserve price of $120,000.
And Finally
Also, this is not an instrument you want to have to ship. Music journalist, Gordon Reid did – all the way from Australia to the UK – and ultimately ended up having to dismantle his fence and his doorway just to get the thing in the house. For this amazing feat alone, Mr Reid Sir – we salute you. We also thank you for allowing us to record it for inclusion the VSM Expansion Pack.