June 1, 2023
by GForce Software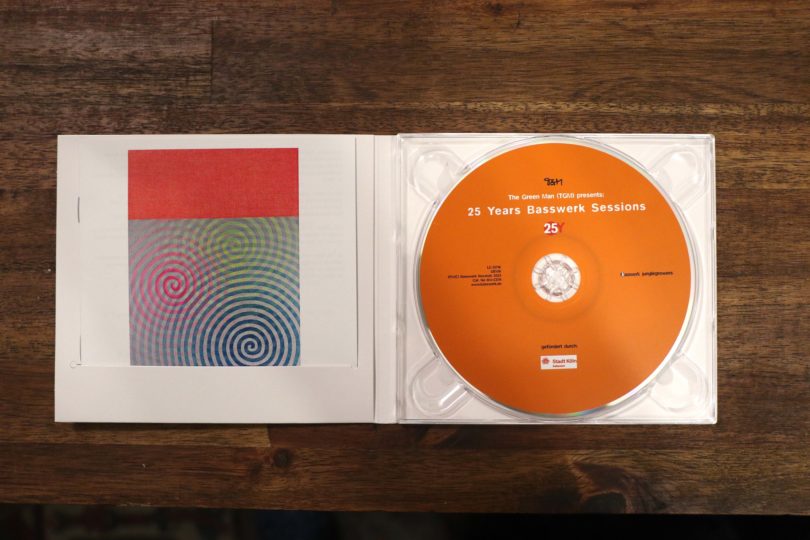 Cologne based and beloved: for the label's 25th anniversary, BASSWERK mastermind TGM (The Green Man) delivers a new album calling on a bold, joyful and musically powerful Drum&Bass, and Jungle sound. A global journey of 21 tracks spreading energy with many sonic sources. Whether Soul, Reggae, HipHop and Pop join this party, hitting on strict underground vibes. Or Electronica, Footwork, Rave refresh this sound and mind travel. "Basswerk Sessions" create freshly revived amalgamations. Culturally eclectic collabs, plus TGM trademark tracks.
TGM is a long time GForce user and the new album even features GForce's MKII so we were very happy when he offered to answer a few questions about his new album and approach to production.
Label: Basswerk / Distribution: The Orchard/ SONY Formats: CD / DL / Stream Genre: Drum & Bass, Jungle, Pop, Dance
Can you tell us about the inspiration behind your new album?
I have encountered very different ways of making music: perfectionism, concepts, improvisation, easiness… I like to combine them, for example perfectly crafted beats with more loose freestyle playing or improvisation on analog modular stuff on top. I also want to bring different styles and cultures together in new ways, sometimes also referring to that special spirit of Jungle in 94 or D&Bs in the late 90s, which was a big inspiration. What is different now is that there are better production tools out there for everyone. Producing and realizing ideas was never as easy for everyone, also for me as after many years of experience and with brilliant modules or a laptop that works fine without a fan. Of course the composing and production process is always also a bit of trial and error, like cooking a soup, the whole thing is more than the sum of its parts. Sometimes adding a little something can make things really special, I really enjoy to go for that.
What themes or messages are you exploring in your songs?
Some tracks are against war and adressing world leaders (like with Navi or Freee Will), others celebrate music and being back on the dancefloor (like with Laura and David Boomah), some are more about strength and positive attitudes (Word, Sound, Power, Tsyuyoiga Reiga Tadashi), "Inner Pressure" is very emotional. This time, I think the album as a whole also carries some of the energy being in the air after those Corona restrictions were gone, it's maybe more dj friendly than the last one, but still I mostly want make tunes that can also be heard also outside the club. Everyone was allowed to move around freely again and also dance and that's how I felt too. Music can express things in an emotional way, though not as detailed as lyrics. While war, environment threats, inflation and politics are certainly depressing, all this also makes you remember to enjoy the good moments as long as possible and celebrate the moment.
Is there a specific song on the album that holds special meaning to you? If so, why?
I realized that the same music I made in D&B can get a whole different attention and meaning if I leave the fast beats out, for example with my tracks "Infinity", "Mr. One" or "XXX". So thinking about a new remix for "Word, Sound, Power", I wanted it to be different than the original and, besides a more danceable 2023 rmx, I made an acoustic version and it worked! Piano playing is my background and I think Peter's voice is outstanding. He is known from "I'm a junglist" or "Ravin I'm Ravin" with Shut Up & Dance back then. I was very unsure at first, but DJ Freeze from Mannheim, who helped me to meet and record Peter in the first place around 13 years ago, loved it and said he'd be very curious on reactions in the UK. So I felt encouraged to call up Peter and play it to him and he really liked it and said "your ear has grown". That meant a lot to me. Also, I used samples of that very first Grand Piano I learnt playing on when I was 7 in the track. I had to do the sampling very quickly, since my father decided to give it to someone since it wasn't in good shape. I was very sad and couldn't stop him from doing this, I was very busy too and things went very fast. I had a few hours left and found a very unconventional mic position for recording that sounded best and created an instrument out of that which I have used quite a few times on tracks since then. This time I decided to use it only for some melody parts and mixed it with another piano.
Working with Thorsten Quaeschning from Tangerine Dream was also like a dream coming true. Musical elements from different worlds match well and easily together in that "No need for consensus" track. I also really like the message behind it, the whole Jungle thing has always been a melting pot bringing things together, at least that is what it meant to me.
Could you share further interesting stories or experiences that influenced the creation of specific tracks on the album?
I love 60s sounds and aesthetics and started as a dancing school dj in 83. So I started making that "Breakbeat Bossa (Nova)" track, since back then I was in the middle of another project anyway called "Lower Breakbeats", where I wanted to use breakbeats differently. Instead of pitching old breaks upwards, sometimes I tuned new ones downwards. So I was mixing Breakbeats, Bossa, 60s and LoFi stuff together for an unusual sound experience that made sense to me. Those GForce MKII loops were perfect for this and the track also spreads a good mood. I also heavily used a Roland SP-404mk2 for this. I think the track is also a great radio tune, building a bridge between the music of different generations and they all seem to like it so far. Later on, Dave Spiers from GForce helped me to craft a little video for it when I asked him for some old Mellotron footage or pictures.
On the other hand, two sketches from my first ambient live act made it the other way around and became D&B tracks. "Inner Pressure" is not a happy track, it has strong and darker emotions, but I am happy the way I expressed this.
Once I had a moment where I thought: Everything is gonna break together if I show weakness now. The next day, I had a moment where I thought someone was misinterpreting me being friendly as weakness. Anyway, I like the attitude of being strong and polite, or polite and also strong. So I thought I might do or name a track after this. I realized that the attitude is somehow well represented by japanese arts. I also realized this album has musical elements from all over the world in there, but not so much from far east. So I translated those words into Japanese and "Tsuyoiga Reign Tadashi" became the last track on the album, then it was finished. Of course for me this is also honoring Photek, who has expressed fighting moves in music before in a gorgeous way. So one may judge if this is necessary or not, but I am a bit sad that this kind of music isn't made more often, I think there would be a lot more stories and moods to express, it even could be an own subgenre to me.
Are there any collaborations or featured artists on the album? How did those come about?
Obviously most of those tracks feature some kind of collaboration. There is always a nice story behind it. With Track 1 "On the Dancefloor" a fan suggested me to contact a singer in Vienna to join for a d&b track – more than 7 years later I managed to finish it. On Track 2, "Power to the Nurse" Navigator, whom I met through DJ Freeze, comes together with the voice of an opera singer (Maria Kublashvili) that was practicing next to my room and now lives in Switzerland. I said hello to her because I liked her voice and she was open for the music. That happened in 2018 when she sang on top of a track where I recorded a big choir that I sing with myself and on another one with David Boomah and Gregor Schwellenbach. Navigator has a lot of thoughtful lyrics and things in his head. The whole range of his abilities can hardly be captured, he can be very strong and powerful, but also soft, tender and wise. I really enjoy making tunes with him showing his different sides, like in "Daddy me love ya". He has a very nice singing voice besides his obvious energetic MC skills, but can also be very calm, he can go bright and low too. The vocals came spontaneous and sound a bit raw and maybe not as polished as in other collabs that we did, but I really the simplicity of the track and how this came out spontaneously when he heard that first sketch. He had these lyrics in there, saying "More Power to the nurse and the teacher" and I made her sing and emphasize that.
Track 3 basically is a remix I did because I liked a track from a student of mine, later on we decided to release just this and not the original. I really like the mood of it, although it is for sure a bit sad, but there is also hope. I could go on with this until track 21 with David Boomah, who is a friend of Navi. Navi and Freeze told me about David and though I never met him in person, I think I was able to feel his personality just through corresponding with him and I felt a lot of positive vibes. This really helps me when I make music, it gives me energy and I am very thankful that I have met these people. Finishing tracks sometimes is very a lonely trip and I enjoy when I can smile when I think of the people I made the music with.
After a weird label experience around 2011, I took a break and decided to focus more on my own music and also wanted to work closer with people whose music I release, get to know them better and feel some respect for each other or share a musical vision. Ever since then, with every release I made at least a little contribution, collaboration or remix or had someone remix me. However, I asked most new and old resident basswerk dj's or team members for contributions – and Jaycut, Gourski, Kings, Philo and Jonathan for example have really helped to make this album better with their contributions in my opinion. Gourski and I had a really good time being nerdy in the studio again after some really bad times were over. There are some long-term friendships with some of the UK contributors, like with Aquasky. We met when I had my first track cut as dubplate, he played it in London in 96 and later on they played their first abroad gig here in Cologne and came over quite a few times. Brent is now doing big things with his Vinyl Fanatics imprint. Also Steve Digital recently came over recently for a few days when he played at our event, we made some new music on occasion, and had a good time as well.
"Meet me in the Jungle" is also based on a sketch from my ambient project. I got connected to David Harrow from L.A. with the help of Claus Kruse from Yamaha, who endorsed me earlier. David is not only a musical pioneer, he also made some excellent D&B under the "James Hardway" alias I wasn't fully aware of and played me some new tunes. I told him my Basswerk collaboration concept and he was open for it. Very soon afterwards he sent me some stuff he made on top of my sketch which he picked out of the ideas folder I sent to him earlier. So the track went back and forth a few times and we both felt that vocals could help. I had a student in my class, Chrissi, who previously recorded a young female vocalist with Tamil roots called Vavunettha living near by for me on "Say Goodbye". I asked them again and they recorded a little part for me which I tweaked and spread over the track. It felt great to bring together a very skilled musician from LA and a young talent from around the corner with the help of the track. She also sang in another track ("Deep in my heart") which became the first single (https://youtu.be/piCcSRuGrSU).
The album and singles covers are handpainted by my old basswerk partner Laszlo Milasovszky a.k.a DJ Cheetah, so that was a collaboration too. There are more singles to come, often featuring special versions of the tracks, with different pictures from him.
What are your hopes or expectations for this album?
I hope people can feel the vibe and energy. Sometimes there are moments when you listen to music and feel like it is expressing what you feel and it helps to feel understood. I had this with tracks by Wally Badarou,Trio, Eroc, Kitaro, Air, Apparat, Tangerine Dream, Shut Up & Dance, Peter Gabriel, Yello, Portishead or Massive Attack. I hope some of my tracks can be this kind of friend for some other people too. A track has to be good in order to achieve this, so that is what I am hoping for.
I also hope to inspire other artists. Music can be a healer. It helped me to focus on it and forget uncopeable things going on around me quite a few times. I hope the album's track sequence as a story works well too.
Of course I also hope that dj's will pick up tracks and tracks will get played in the radio. Ray Keith has played quite a few already in his Thames Delta Radio and that means a lot since I feel close to his style of emotional D&B. With the 2019 album, also ReneLaVice played a few tunes in his BBC show, hopefully this will happen again. I also hope my music gets used in films as soundtracks or will open up more opportunities for soundtrack composing, remixing or sound design. But I don't want to expect too much, I just keep going on.
Are there any GForce Software instruments featured on the album? How did you use them?
Of corse the first tool to mention is the GForce MKII on "Breakbeat Bossa". During the Corona pandemic, I became more of a music technology specialist, i wrote and experimented a lot. I also reviewed the GForce MKII. To be honest, I didn't get the whole Mellotron story until then. When I teach sampling and have enough time, I usually start with an old video showing the Mellotron with Eric Robinson and David Nixon – and one with the Fairlight and Peter Gabriel as well (I teach and write classes for United Pop, they work together with University of West London). I want students to be aware that there are other, sometimes forgotten ways of using samples than just trying to perfectly capture instruments and create big libraries. Such as playing with loops in sync on the keyboard. Or to just sample something and spread it out on the keys and play. So the GForce MKII is the recreation of that instrument in that old Mellotron video and I was blown away when GForce sent it to me. I had the M-Tron Pro for a long time and previously I thought that I would still need to get some extra tapes and expansions in order to finally access those sounds. So the Mellotron story was really exciting to explore and I love all those sounds that GForce is providing. I also really like GForce's idea of running new samples through the old process in order to recreate the sound – that is fantastic. I often try to run sounds through an analog chain including a cassette tape recorder in order to make the sound more interesting, like for example the Arps in "Junglist Soldier" with Digital (which came out on Function UK in 2021).
Earlier, I also used the GForce VSM Virtual String machine a lot. I also like the GForce's Oberheim OB-E concept of having voices that can be tuned separately and without quantization – for example for drone music. The GForce recreation of this original is really great. This helps me also to cite Indian music like Ragas and reinterpret it with a mixture of electronic and acoustic sounds. A bit like the Soma Lyra, but with a more controllable sound. I am experimenting with these things with my modules and try to build a special hardware setup (shown here: https://youtu.be/-Fd5eVRAbe8). I also like GForce Oddity3 and use it quite often. To be honest, I don't always remember what I used in which track, since I tend to sample my synths for later use in Samplers. I guess that's an old habit from my early Emu and Akai days, I still like it.
Can you share any behind-the-scenes anecdotes or interesting stories from the recording or production process?
Sure, there is more… Laura sang those vocals at home with her earbuds that were swinging around while she was dancing ("On the Dancefloor") – and recorded it in Garage Band. That's all! Students later on asked me about how I realized that interesting flanging effect on her voice.
When I record vocals, most of the times the track isn't fully arranged yet, so the singer can improvise more freely with just a mood. I'm trying to leave more space for the other artist and try to bring the best out of the performance with edits later on. This how many tracks on the album evolved, for example tracks with Skarra Mucci like "Windows to the World". He is better known as a reggae singer, but has different sides too. When trying to finish the track, I suddenly had the idea of playing a vibraphone since I used to listen to Roy Ayers, Lionel Hampton or Montana Sextet.
DJ Freeze and I recorded the vocals for "Haffi Do It" with Ras Abraham very long ago, but somehow it took me until now to finish it. I felt like now is the right time. Also having a faster laptop really helped to finally get all those elements together without seeing the computer's spinning wheel of death too often. I've also been experimenting with all kinds of Delay FX recently (tgmechoes.de), some of the skills went in there for a dubby summer jungle tune.
Also this time, Tony Calhoun from M3 Mastering helped me to finalize and adjust things, he became part of the creation process and somehow we also made our first track together, we know each other for a long time. It became a dialog where I sometimes changed my mixes and had him run it through his system again in order to achieve improvements rather than asking him to tweak what he did (which of course also was the case sometimes).
Lastly, what message would you like to convey to your fans and listeners with this album?
Don't forget to get back to your inner voice!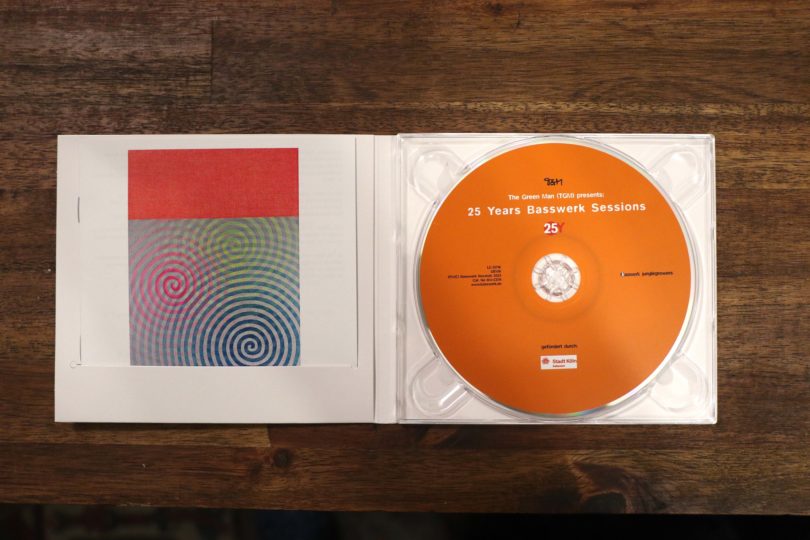 Basswerk 1997-2023
The Cologne-based label is known as the leading German drum & bass label. Having released 38 vinyl and over 70 digital releases, albums and"Basswerk Sessions" compilations over the course of 25 years. High profile international artists as well as many local headz have released here. Artists such as Camo & Krooked, Command Strange, Phace and Misanthrop. Releases by Giana Brotherz and N.phect & Dizplay defined the beginnings of neurofunk. And label mastermind The Green Man regularly excels with trademark tracks and whole albums. With the "25 Years Basswerk Sessions" album, it steps into the future as much as going back to the roots.