September 26, 2017
by GForce Software
We're always happy when people get in touch and play us music that uses any GForce instrument. We appreciate everything we're sent and we can safely say that we regularly get tracks that make us sit up and take notice and which leave us smiling for a good few days.
One such occurrence was after an email from Ian Button, co-founder of a UK based band Papernut Cambridge, who had been put in touch via our friends at Streetly Electronics. Partly because of Ian's considered and informative email which stated:
"I've just finished making an instrumental album (almost) entirely with Mellotron/Chamberlin etc sounds using the M-Tron Pro. Only real drums, tambourine and some bass guitar have been added. It's a mix of stately prog and kind of groovy spy film psych"
… and partly because of the Streetly connection, we had a feeling the band's work might be Trontastic. And when Ian sent us an advance copy, oh how right we were.
We now think everyone else should too and so we teamed up to give subscribers a discount on what we think is a Trontastic album.
Use these codes to receive a 20% discount when buying the album.
gforce*lpxclsv for the vinyl
gforce*dlxclsv for the download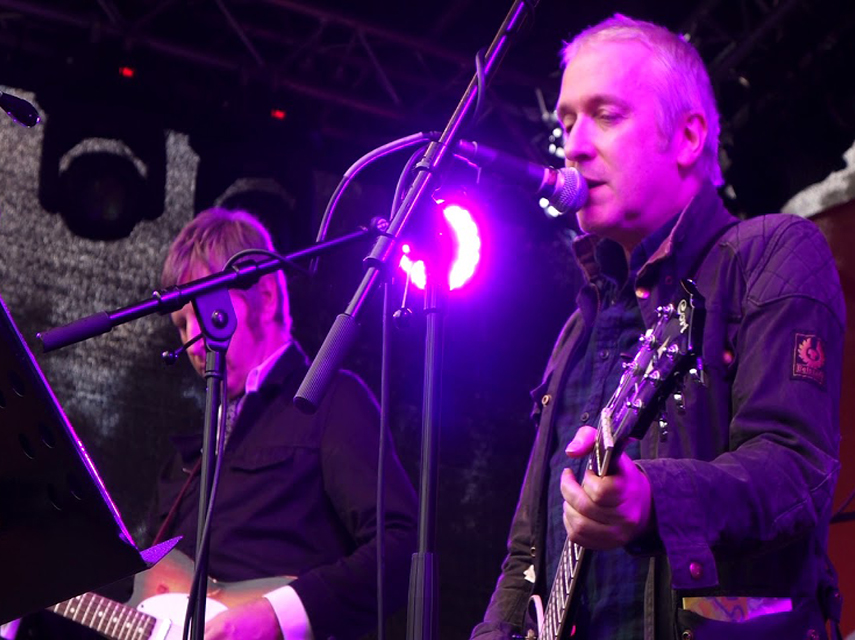 Aside from the wonderfully eccentric name, Papernut Cambridge are also reasonably prolific, as a visit to their Bandcamp page reveals. From the the 2013 Cambridge Nutflake album – featuring great songs with superb titles such as 'Laundromat Dream' and 'Don't Make Me Admit Stuff' all mastered in Mono – to the 2017 Cambridge Circus concept album based around a British agent who unexpectedly falls in love with the Soviet agent he's shadowing – there's a thread of quirky English, indie, psychedelic pop that takes elements from Ian's past work with Death In Vegas and The Thrashing Doves, and combines it with regular atmospheric soakings of M-Tron Pro tones. All with an indisputable vibe and character of years gone by.
We took time to talk to Ian on the lead up to the release of a somewhat different project; namely, a Papernut Cambridge library music album for Ravenwood Music, called Mellotron Phase: Volume 1.
Q. You seem to have had quite an interesting and varied music past. Can you give us a bit of history?
I go back a long way…oh god… I started in bands around the age of 16-18 in the late 70s…I started a degree at Leeds Uni in 1980 (where I almost became The Sisters of Mercy's drummer), but didn't stick it beyond the first year.
I came back home to Kent in '81 and got a job doing tele sales for Pinnacle Records (then distributing great stuff – Factory, Cherry Red, Fetish, Crass, Trojan, 4AD) and I met and got involved with the band that would become Thrashing Doves. I worked with the nucleus of that band – Ken & Brian Foreman – for the rest of the decade from 1982-90 or thereabouts: our first two albums were on on A&M, the third on Elektra. We were involved with a lot of tech and electronics at the start of Thrashing Doves – we went through most of the early kit that was beginning to use samples etc: Drumtracks, SP12, Linn 9000. We were using sequencers and drum machines with guitars and it wasn't easy! But Ken and Brian also had a Solina, which I loved the sound of (I've 'inherited' it now actually).
In 1989 I got a Roland W30 and began making music of my own, which led to a few years running my own bands (Motorcyclone, Ashley Flowers) and eventually getting a deal with the fledgling Almo Sounds label (Herb Alpert & Jerry Moss' post-A&M venture).
I got involved with Death In Vegas very early on when it was basically a bedroom project and they wanted some guitar parts for a track. I played some riffs and scrapes straight into an S1000 sampler and it all got edited into the first single (Dirt) and the rest was history……I played on the albums (most recently a bit on 2011's Trans Love Energies) and was part of the live band for basically ten years, 1995-2004.
Alongside playing in D.I.V. I did other sessions and also got to do a bit of music for TV (including the theme to The Saturday Show for CBBC)
In the mid 2000s I started doing production as well as playing for other bands, lots in the anti-folk scene – David Cronenberg's Wife, Paul Hawkins, Extradition Order and more. I also began teaching music production then, studio and computer based production, for Point Blank, Canterbury College etc, and that's where I am now – a mix of teaching work and production/playing.
Most recently I've been drumming on some gigs and a recording with Twink, doing versions of some of the legendary Tomorrow, Pretty Things, Pink Fairies stuff, but also some brand new songs which will be out at some point. I also had a stint doing library music a few years back – this is partly the reason Mellotron Phase has come about – I got back in touch with an old contact and the idea started there!
Q. Who are Papernut Cambridge and how did the band start?
I'd had the band name written down for ages, ever since I dreamed (in about 1990) about going to a gig by them, and another band called Elvis Breakdown – I had no idea what they were like, either of them! In 2011 I was asked to contribute a track to a compilation, and I thought of doing it under a new band name, so that's how the idea started: the name was there waiting to be used. I had a few other songs I'd started on my own, and I decided to turn it into more of a band, or at least involve a few other friends…and that's how the first record came about.
Q. Does the band gig or is it mainly a studio band?
It does gig – the membership fluctuates and I'm never quite sure who can make it until the day, but the shows are always fun. We've had just 3 or 4 of us on stage, also I think 12 at one point!
It's definitely a studio project first and foremost – i.e. the approach is making the records from the bottom up, rather than it being a complete 'live' band that gets recorded when it's rehearsed the songs. This Mellotron Phase album is a case in point – no one else is on this one…it's just me.
Q. Is it fair to say that M-Tron Pro is an integral part of the Papernut Cambridge sound, particularly on Love The Things Your Lover Loves and now Mellotron Phase?
I think it's the most used – and most usable – software instrument I own. I love the idea of sounds on a record that are clearly not part of the band. I love the strings arrangements on T.Rex tracks or on a Motown or 70s pop-reggae tune. You know no one in the band is doing that – it's just a given that it's something that makes the record more brilliant – what I mean is we don't have a 'Mellotron player' in Papernut Cambridge, like a Wakeman or Banks…but I try to bring in stuff like that on the Papernut tracks as kind of additional production and arrangement – we have Jack (Hayter) who plays viola, but on record lots of the parts are stacked up with layers of Mellotron cello behind his more fluid top lines…..we've used flutes doubling guitar parts, bass accordion underpinning things.
With Mellotron Phase it all went to the next level, because of the idea to use JUST that instrument as much as possible.
Q. Where did that love of the original instrument come from?
My dad got In The Wake Of Poseidon by King Crimson in 1970 – he was in his late 40s at the time, always into jazz, so I'm not sure what the connection was that got him interested in them. He explained to me what a Mellotron was – that it was playing recordings of real violins, and I guess the idea had me hooked. I'd heard Strawberry Fields, Traffic's Hole In My Shoe etc (via my elder sister) before that but didn't twig that was the same thing.
That King Crimson baptism led on to me finding Yes, Genesis etc, and always it was the Mellotron led passages that gave me goosebumps. I love the way the sound genre hopped across to things like Roxy Music, Kraftwerk, Bowie and Iggy, and then I maintain there's definitely a legacy/connection through to Martin Hannett and the string/keys sounds on Joy Division/New Order and the other early 80s records he produced. As a kid hearing those sounds I imagined a Mellotron must be a HUGE instrument – I was quite surprised to see how dinky they were!
Q. The Tron library is vast and varied and yet some fail to get beyond the 'famous' tron sounds such as Violins, Flute and Cello. Why do you think this is?
Those best known Tron sounds are the truly arresting ones when you first hear them – I guess they are on the most famous records too. If they were the only three sounds it would still be the greatest thing ever invented!
Q. Have you any tips on trying to get past those iconic sounds?
Yes, delve deeper! Lots of people think a Tron sound will be too clichéd, too recognisable, or will turn you prog when that's not what you meant. Well it's not the case – listen to the vibes, organs, the solo instruments rather than the layered banks. If you place them and play them in the right way they can really work – not necessarily up front but as part of a blend.
Don't play chords, play single lines like a real trumpet/cello player would, and track them up with similar patches to build an arrangement. The bass guitars are fab…so is the baritone/vibrato guitar!! The point about all the sounds is they have so much character – and you're hearing the personality of what someone played in the 60s e.g. the actual George Chisolm!!
It totally blew my mind and just made me think again how ahead of their time these instruments were.
Q. Over the years we've noticed that people have a Marmite love or hate relationship with the rhythms. What's your take on them?
I had no idea that the rhythms existed until I got the M-Tron Pro. It totally blew my mind and just made me think again how ahead of their time these instruments were – yes, some are pretty cheesy, but it's essentially the same idea as people using loops and samples starting 20/30years later.
Someone could have put the Amen Break or The Funky Drummer onto a Mellotron in 1969 and changed the course of history!! Now THERE's a Dr Who episode idea…….
Q. And what about the incredibly Lo-Fi Optigan rhythms and loops?
Yes, they might be the best ones! A couple of years ago we did an EP of TV themes by John Sullivan, and there's a slightly spaced out version of Only Fools And Horses that uses one of these – the bossa nova one. I was imagining an episode where Del Boy and Rodney get hold of a load of dodgy Optigans and end up making a record..hahah!!

Q. What M-Tron Pro expansion libraries do you use?
I've got them all – most recently the SFX ones. There's a boiling kettle and some sinister laughter buried in one of the Mellotron Phase tunes.
Q. Chamberlin sounds versus Mellotron sounds. Any preference or opinion?
Can't say I've compared them critically, cello for cello etc. If I'm tracking up parts I'll definitely double using a different type of Tron if I can – like having different players doubling a part. I've definitely hammered the Chamberlin library a lot lately – there are some great sounds there I didn't have before: harpsichord, banjo etc
Q. Can you list some of your favourite M-Tron Pro sounds and what tracks you've used them on?
I think the solo cellos are the main ones I use. I tend to go for those rather than the more dramatic strings. On Mellotron Phase I've gone full nerd and listed all the patches I've used for each track!
Q. Is there any particular feature you'd like to see added to M-Tron Pro in the future?
Some way of integrating a sort of Rick Wakeman inspired take away curry ordering screen/app? Haha!
Q. Besides M-Tron Pro, give us your three Desert Island plug-ins and why?
GSI Watkat – it's a great Watkins Copicat emulation, and it's FREE!
Waves Kramer PIE Compressor – I just love something simple, modelled on a classic, that doesn't give you endless options and parameters. Looks, feels and sounds just right on pretty much everything.
Flight Radar 24 – ok, not really music, not really a plugin….but I'd know when to light my distress fire or write HELP in the sand!
Q. How about three Desert Island albums?
Ah, very difficult – ok here's three oldies that I always go back to:
Scott Walker – Scott 3
Orange Juice – You Can't Hide Your Love Forever
Tyrannosaurus Rex – A Beard of Stars
Q. Favourite Mellotron moments on record?
Genesis – Watcher of The Skies intro. Absolutely monumental. For an early Motorcyclone track I sampled individual chords from the live version and built a song from them.
Caravan – Golf Girl. Unexpectedly funky Mellotron solo at the end from David Sinclair!
King Crimson – Trio. A wonderful slice of fragile beauty on quite a harsh mid 70s Crimson album (Starless & Bible Black). Lovely tron flute jamming with delicate guitar and David Cross' violin.
Kraftwerk – Radioland. From my favourite Kraftwerk album Radioactivity. I think I read it's an Orchestron on this album? To me this record is the sound of machines almost breaking down, playing beautiful sounds as they die!
Q. Ravenwood Music are an interesting choice of label in that they're a Library Music publisher. How did that come about and what's the thinking behind the Mellotron Phase album?

I met George Barker around 10 years ago when I was first involved in doing library music and he was at JWMedia at the time. When I started teaching I let it all slide for a few years and hadn't been in that world for a while, but at the start of this year I got back in touch, and found that George was now running Ravenwood Music – his own specialist production music company doing a purely electronic catalogue. The first idea that we discussed (and I started) was an album of tracks made only using software instruments etc for all the sounds – a really focused idea featuring just one or two instruments. That idea got sidetracked when I asked George what he'd think about a Mellotron library album – I think his words were "You're walking through an open door!" – although we did have a few concerns about how non-electronic it would all sound and how it might fit with Ravenwood's synth based ethos.
I think because there's an element of tech-based purity in the idea – the fact that the mechanics behind making it are of definite historic interest in terms of electronic music as a whole, and the bulk of the instrumentation is basically 'programmed' – it works. And George has said he's not a purist in that respect. He's also got a great philosophy on trying to blow down a few of the boundaries there are between library music and commercial (or supposedly more 'authentic') releases. That's another reason I wanted to do it, and have it under my project name, not making it another alias, or distancing it from my other writing etc. So it's officially a library album, but it will also be part of Papernut Cambridge's discography, vinyl version on sale from us etc.
I also like the idea that this comes around the time of the hoo-ha about the "bespoke" (some say fake) music appearing on Spotify playlists. That's kind of a weird distortion/application of the idea of "production music", and I'm amused by the thought of doing something like this album – being open about its purpose but not pigeonholing it…if that makes sense?
Q. Was is a deliberate decision to restrict the instrumentation to mainly Tron sounds or just a desire to capture a specific feel and vibe?
Yes, definitely the idea of restricting it to Tron sounds came first. I wasn't sure what the end result would be overall in terms of style….the slow, proggy tracks were the starting point I guess…but I knew it couldn't all be like that…..I wanted to get some faster, more upbeat tracks in there too.
Q. What were the challenges with keeping things so tight in terms of instrumentation?
Initially it was the thought of running out of steam after two or three pieces. But the more I explored the libraries the more ideas I found. At first there were no drums on any of them…..then I tried using a very discrete type of rhythm box (Bentley Rhythm Ace etc) to try and be in keeping with the late 60s tech and the 'electronic' music idea. The basslines were the Mellotron Hofner bass. George was rooting for more psychedelia, more 'production' and excitement, and I asked how he'd feel about them having real drums. George just said "Do what you think they need", so I did a drums session with my friend Jon Clayton at his studio in Brixton, where most of the Papernut drums and 'band' takes are recorded. We basically used 2 mics – kick and overhead – we also recorded a massively compressed room mic, but I ended up not using that in the mix…..it sounded too modern!
I played on the 8 tunes I had recorded already, plus some improvised drum takes to keep for later – these ended up as Five Wheels, Puppet Shop and Three O'Clock. I then decided to do real bass on everything too…..apart from a couple of bits of Mellotron Hofner left in. Experimentally, there are mixes of a few tracks with extra guitars – there will be alternate versions for the library – but for the main vinyl album I wanted to keep it as pure as I could, so there's only one track with real guitar: the echoes and scrapes on Riviera.
Q. The tracks Advantage Soho and Five Wheels are quintessentially British, fixed in a period of swinging mini's, puppet captains and mod culture. Did this period influence your youthful life or was it a period you visited after the fact?
I first started buying records very young, with the help and inspiration of my older sister – I remember getting The Electric Prunes' I Had Too Much To Dream Last Night and Pink Floyd's See Emily Play when I must have been about 5 or 6…..all The Move's singles…The Herd…….My sister Ann loved The Who and The Beatles, then Motown, Trojan reggae etc…so that influence was there very early I guess.
I've been constantly revisiting it ever since, plus subsequent stuff I loved like glam, prog, punk and post punk. And its wonderful how I'm still discovering stuff from those late 60s, early 70s times that I wasn't aware of, thanks to friends I have now who are collectors, DJ's in that field etc.
Q. We love the gentle sweeping phaser sound on Three O'Clock. Is that from anything special?
That's the Waves Real ADT plugin. It's on quite a few of the tracks – there are alternate phased and un-phased mixes in the library version. I tried to set it up as authentically as I could, like proper tape phasing, so I mixed the track normally, then lined up a copy of the mix alongside it in Logic. The ADT plugin is on the copy, but with the original signal muted so I was just getting the 'return' ADT signal. I then played both mixes together and just nudged the varispeed control on the plugin, recording the moves in a live take as automation – so it's pretty close to putting you hand on an actual tape reel to slow it down.
Q. We're in love with some of the old KPM library music tracks by people like Brian Bennet & Alan Hawkshaw and we noticed that your album 'Other Things Your Lover Loves' was inspired by classic library music & TV Themes. Name some of your favourite old school library music and TV themes creators?
I'm not an avid library music collector…but there's definitely some standout tunes that I've been inspired by, just because of hearing them as they were intended, on TV etc:
Keith Mansfield – you name it: Light and Tuneful, Grandstand, Young Scene and Teenage Carnival (The Freewheelers theme). The greatest drumming on these!!
Town Talk by Ken Woodman & His Piccadilly Brass – the Jimmy Young programme theme. Coming out of the radio all compressed it used to sound like the naughtiest, hugest record ever to my youthful ears!
Tarot by Andy Bown – the theme to "Ace of Wands" – really ear-grabbing for me, the stops and starts and the harmonies in the verses. I had no idea who he was at the time of course!
The theme to Farmhouse Kitchen – it's called Fruity Flutes by Reg Wale. The instant feeling of being off school!
There's probably loads more – I remember the music that used to come in the gaps between schools programmes…some of it was so haunting…….and in lots of ways reminded me of the other music I was into: pastoral prog, or my dad's jazz. I just accepted it was music coming from a different place than the pop music I was buying.
By the way there's definitely an old 60s current affairs program theme that I'm sure uses the Chamberlin "do-wah" trombones – it flashed back to me when I heard that M-Tron patch, but I can't remember what it is!!
Q. We couldn't help noticing that you covered the classic TV theme tune, White Horses, on the Nutlets 67-80 album. What was it about that theme tune that grabbed you?
It's another really haunting theme tune for me as a kid. I don't remember anything about the story, but the tune by Jacky is fantastic.. the way she fades off into reverb at the end – real atmosphere and goosebumps.
Q. What's next for you and Papernut Cambridge?
We're just getting to finishing off the next Papernut Cambridge album 'proper' – i.e. one with songs – that will be out in 2018. Friends and guests are recording their parts and sending them back to me for assembly – we're at the fairy dust stage!!
Q. Will there be a Mellotron Phase: Volume 2?
Well, yes the clue is kind of in the title!! I hope so! I wasn't sure, but I think there's a lot more sounds and combinations I haven't touched yet in the M-Tron libraries. The rhythms maybe, more brass and woodwind, and the SFX….Volume 2 could be quite different!
Q. Any gratuitous plugs, words of wisdom or shout-outs you want to impart?
A big shout to Martin at Streetly Electronics who sent over loads of pics etc, and has been encouraging about the project from the start.
Also to Daniel Kerson from musicalbrick.com. He does the fantastic Lego Peter Gabriel/Genesis minifigures, and the Lego Mellotron that's on the album artwork!
And to all my fellow Tron nuts who I hope will enjoy reading/hearing this!
Links:
https://papernutcambridge.bandcamp.com
https://www.facebook.com/PapernutCambridge/
Twitter: @papernut_c
Papernut Cambridge – Chartreuse
Tron Piano, Vibes, Violins used to great effect.