June 3, 2021
by GForce Software
We are excited to announce a collaboration with our friends at Novation offering our award winning Minimonsta to their users* until August 5th, 2021.
When we ask our users what they think about GForce Software, the overwhelming majority answer, "Sound quality". So we're delighted to offer Novation music makers an opportunity to get their hands on our beloved Minimonsta.
Over many years, Minimonsta has been used by countless high-profile artists, music producers, and composers so we're looking forward to you conquering the Minimonsta and making it roar in your tracks…

If you're a Novation music maker; Welcome!
Minimonsta
Minimonsta is an award winning, highly detailed and accurate emulation of the legendary bass shaking and funky lead making synth. We think of it as a Mini emulation on steroids with heaps of attitude because, until Minimonsta, numerous clones simply attempted to copy the original instrument and then add one or two features such as polyphony and another LFO, Minimonsta takes a radically different look at this vintage masterpiece and operates on two levels: Mini and Monsta.
Mini – the authentic emulation
All original features including 3 oscillators and the famous 4-pole, 24dB/octave filter.
Monsta – where the classic becomes monster
Additional LFO & ADSR for modulation of almost every parameter making it the most programmable one AND it comes with 500 Meta-patches. Each Meta-patches includes 12 patches for a gigantic total of 6000 factory patches. Together that's instant inspiration and unlimited possibilities…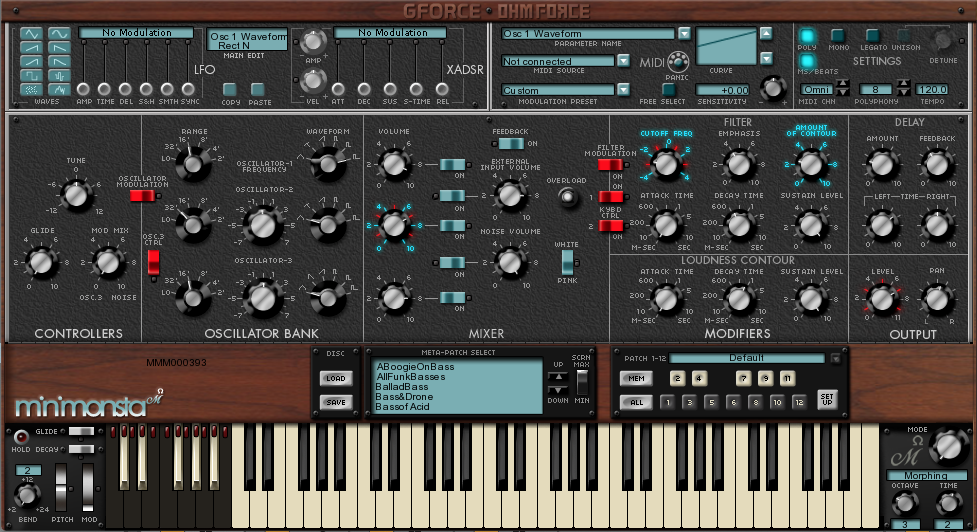 The things you need to know
Minimonsta Limitations
Minimonsta IS NOT compatible with the latest macOS, Big Sur.
There is no AAX version for PC.
You CANNOT enlarge the Minimonsta interface.
Minimonsta FAQs
Your unique Activation Code used to register the Minimonsta on our website IS NOT your installation code (see below).

For additional information, please check the

Minimonsta FAQs here

.
Get Minimonsta on your system –
4 Steps
Step 1

– Get your Minimonsta 'Activation Code' from the Novation website
Provided you are a registered customer of Novation, log in to your

Novation account here

.
This is where you will find your unique Minimonsta 'Activation Code'.
If you are a Novation customer but not yet registered, head to

Novation here

and register your Novation product(s) so you can access the Sound Collective offers.

Steps 2 – 4

refer to actions and details performed or found in your GForce Software website account.

Step 2

– Register your Minimonsta 'Activation Code' on the GForce website



If you do not have an account on the GForce website,

create one here

. You will receive an email to verify the account. Once verification is complete you will be automatically logged in.

If you already have an account on the GForce website,

log in here

.

Register your Minimonsta Activation Code to your

account

.



Step 3

– Downloading Minimonsta
Once Registration is complete, click on the View Instrument button next to Minimonsta.



Download the version your require, Mac or PC.


Step 4

– Installing Minimonsta on your system
Locate and run the downloaded Minimonsta installer taking care to follow the on-screen instructions carefully. During installation you will be asked to enter your User Name and Registration/Key Code.

These two installation codes are always available to you from your account on the GForce website next to, or below the Download links.


Technical Support
Please contact NOVATION's exemplary Support Team If you have any question about:
Accessing the offer
Installing Minimonsta on your system
For any other questions, please use the GForce Software Technical Support form found here.

Please note – We do not answer support question through our social channels so if you do decided to post there, you'll be asked to contact us via the Technical Support form mentioned above. We are a very small, responsive team but we may be a little longer than usual during the course of the offer so please be patient.
And finally…
Please helps us by following and tagging us on:


Legal Notice
All third party product names used in this product are trademarks of their respective owners and are in no way associated or affiliated with GForce Software Ltd. These trademarks of other manufacturers are used solely to identify the products of those manufacturers whose tones and sounds were studied during development of this product. Moog, Minimoog, Model D, Minimoog Model D are Registered Trademarks of Moog Music, Inc.


*Exclusion exist, see Sound Collective and Novation terms and conditions